Tumblr, owned by Yahoo, is a micro blogging and social networking website. It makes use of elements of famous social networking and blogging websites such as Twitter, Blogger, WordPress etc to present us a simple and user-friendly platform. Tumblr allows an individual to promote, publish and discover content from various sites or sources on the web. It is also used by the businesses to improve their online presence.
Tumbler provides user-friendly blogging interface as a content-rich blog can easily be made using text, photo, images, audio/video, link and chat etc. It allows multiple users to have posting rights on a single blog if needed.
The user can schedule its blog posts to appear on a certain date and time and the post or blog will get posted automatically at the specified time. Posts or blogs of Tumblr can be shared and accessed to other social networking sites (facebook, twitter) as well.
How to Sign up in Tumblr
To Sign up:
Open the browser
Go to tumblr.com or you can reach to this Address using any search engine.
Click on Get Started.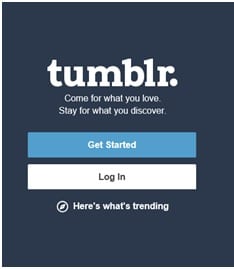 Enter the Register email address
Fill the new password for login Tumblr account
Enter a unique username for login Tumblr account
Click Sign up.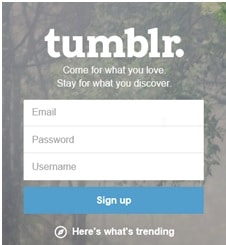 Enter your Age and click Next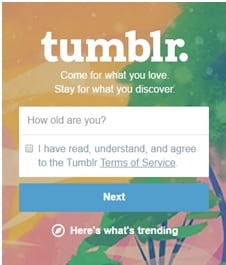 Verify that you are not a robot by selecting the check box, Click Almost Done!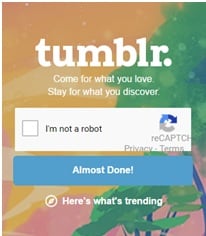 Click on the link sent in your email and your account is ready to be used. You have signed up now in Tumblr.